High-power laser system for super-efficient hydraulic pistons' coating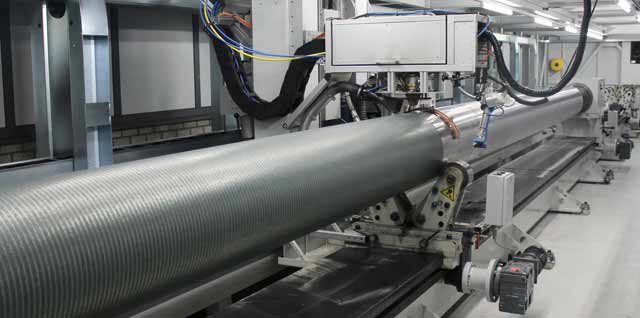 In close cooperation with Bosch Rexroth, researchers at the Fraunhofer IWS Dresden developed an efficient high-power laser powder cladding technique. In the Dutch town Boxtel, a team of scientists retooled a system to coat large hydraulic piston rods up to 19 meters long and with a 600 millimeters diameter. The new technique can multiply the equipment's productivity and makes possible deposition rates of up to 15 kilogram per hour. The researchers optimized the system hardware for laser power values of a maximum of 20 kilowatt and readied it at the same time for applications in the field of "Industry 4.0".
In contrast to the previous configuration, the new technique allows for the coating of hydraulic piston rods by processing much higher powder quantities in substantially less time. The development's objective was to melt the weld deposit in such a way that a coating was formed to diminish wear and avoid corrosion. In the alternative thermal spraying method, the powder deposited and the basic material to be coated form a mutual metallic clamping. In contrast to the spraying method, in the new approach a metallurgical welding appears on the piston rod's surface with a simultaneously low iron dilution of low-alloy basic material in the final coating. As distinguished from plasma powder cladding, in powder laser cladding, dilution levels of less than three percent can be achieved even for a single-layer coating. In the process, the hydraulic rods to be coated are clamped in the system and rotated, while, in parallel, a laser with a homogeneous feed is guided along the rod that is being processed. This way, the researchers obtained a helical coating bead of homogeneous coating thickness. The use of the laser not only significantly accelerates the cladding procedure, but also results in a lower heat input into the basic part. Thus, the basic material remains unchanged in terms of shape and structure. Depending on the hydraulic rod's purpose and conditions of application, engineers can apply several power types with customized properties, such as wear resistance, hardness, corrosion resistance or specific tribological characteristics.
The Fraunhofer IWS team also retooled the Bosch Rexroth system with a specifically engineered inductive heating process. This heating provided targeted process heat control, and, as a result, even crack-critical and hard-to-weld coatings can be cladded failure-free. Bosch Rexroth succeeded in expanding the coating range through customized solutions ("Enduroq" family). These solutions are effective anticorrosive and environmentally- friendly alternatives to conventional nickel-chromium coatings at a reasonable cost.