ROBINIA Project Aims to Contribute to Carbon Dioxide Savings in the Construction Sector
Hardwood for a Sustainable Construction
Trees from Lusatia could support the circular economy and offer solutions for several challenges of the energy transition. Robinia is considered an extremely strong and weather-resistant wood that could replace conventional materials in the construction industry. The ROBINIA project strives for its approval as glued laminated timber. The German Federal Agency for Leap Innovations (SPRIN-D) is funding the project conducted by Lausitz Energie Bergbau (LEAG), STRAB Ingenieurholzbau and Fraunhofer. Dr. Dirk Berthold from Fraunhofer WKI and Dr. Jens Standfuß from Fraunhofer IWS provide some insights in this interview.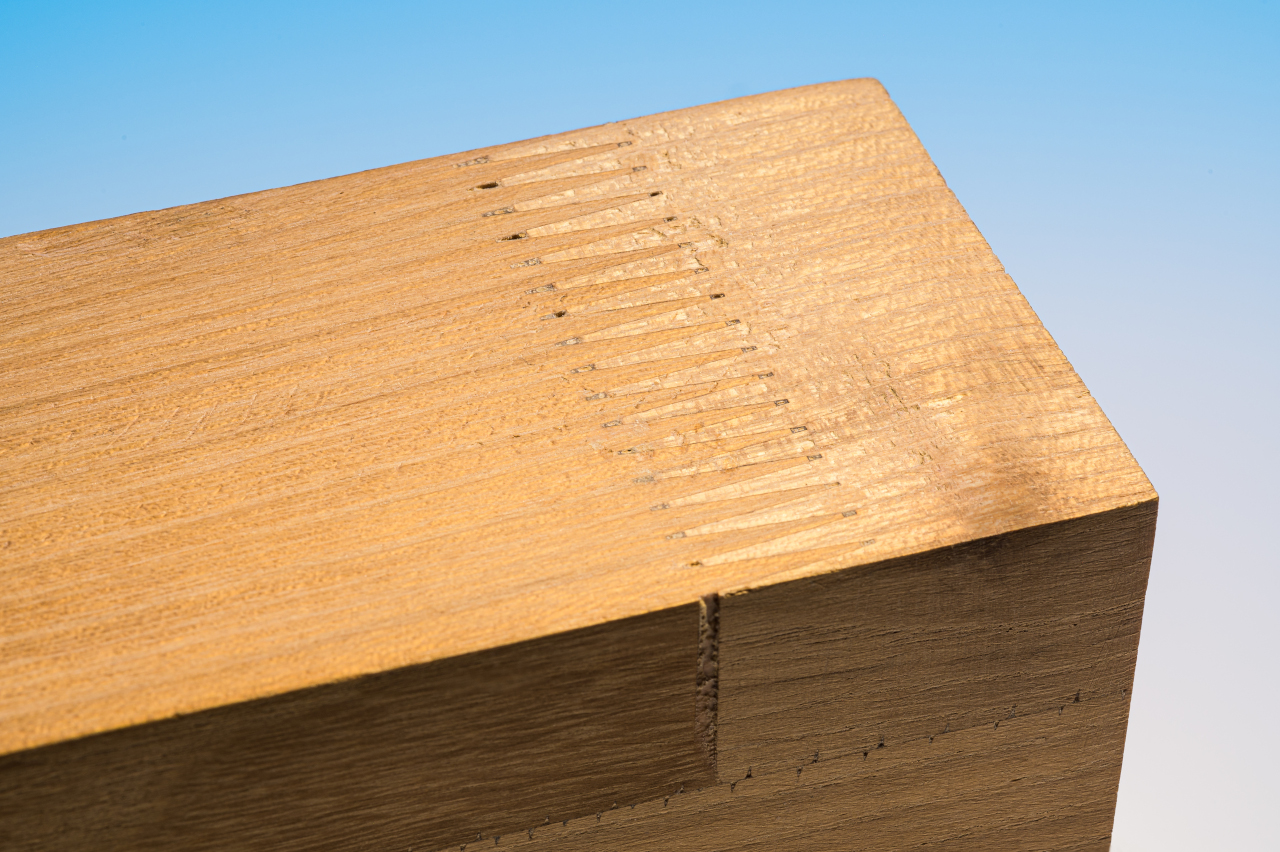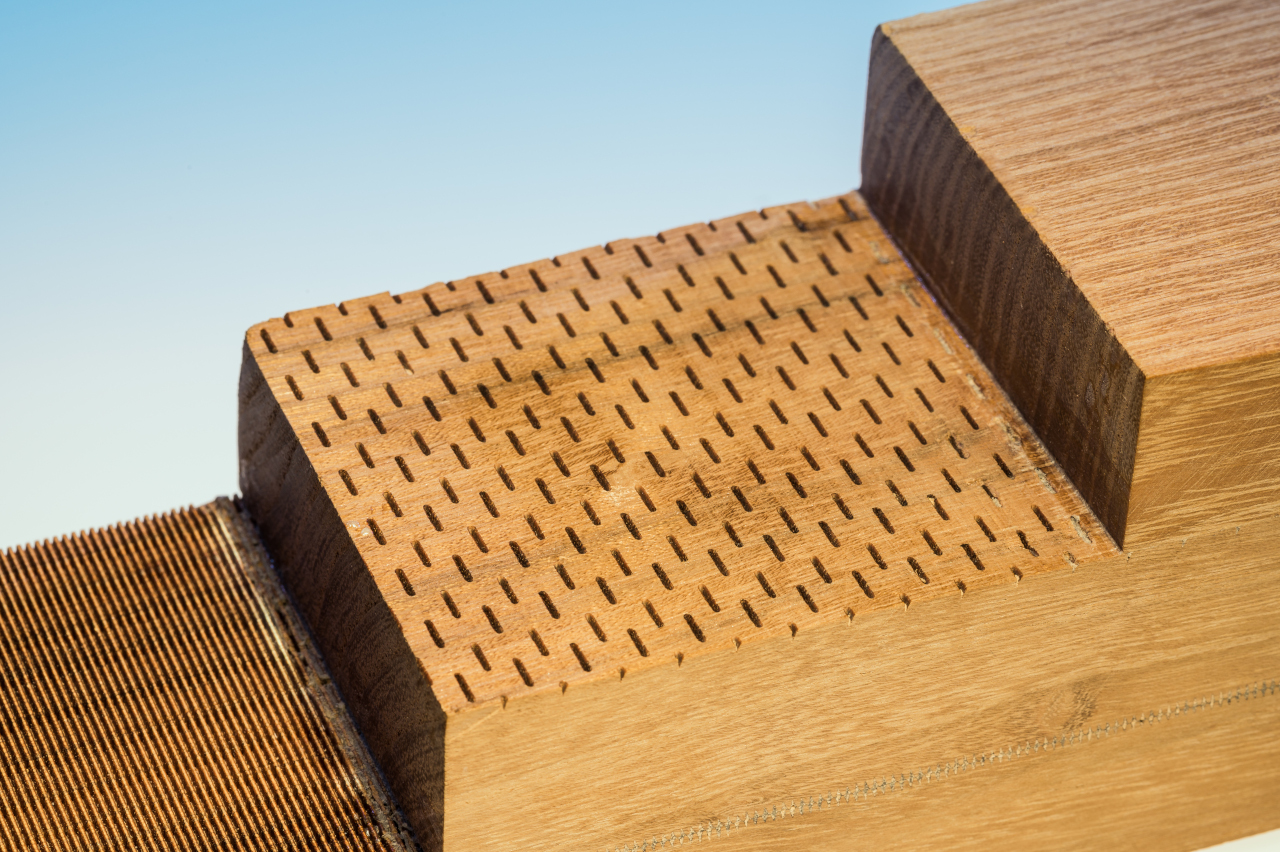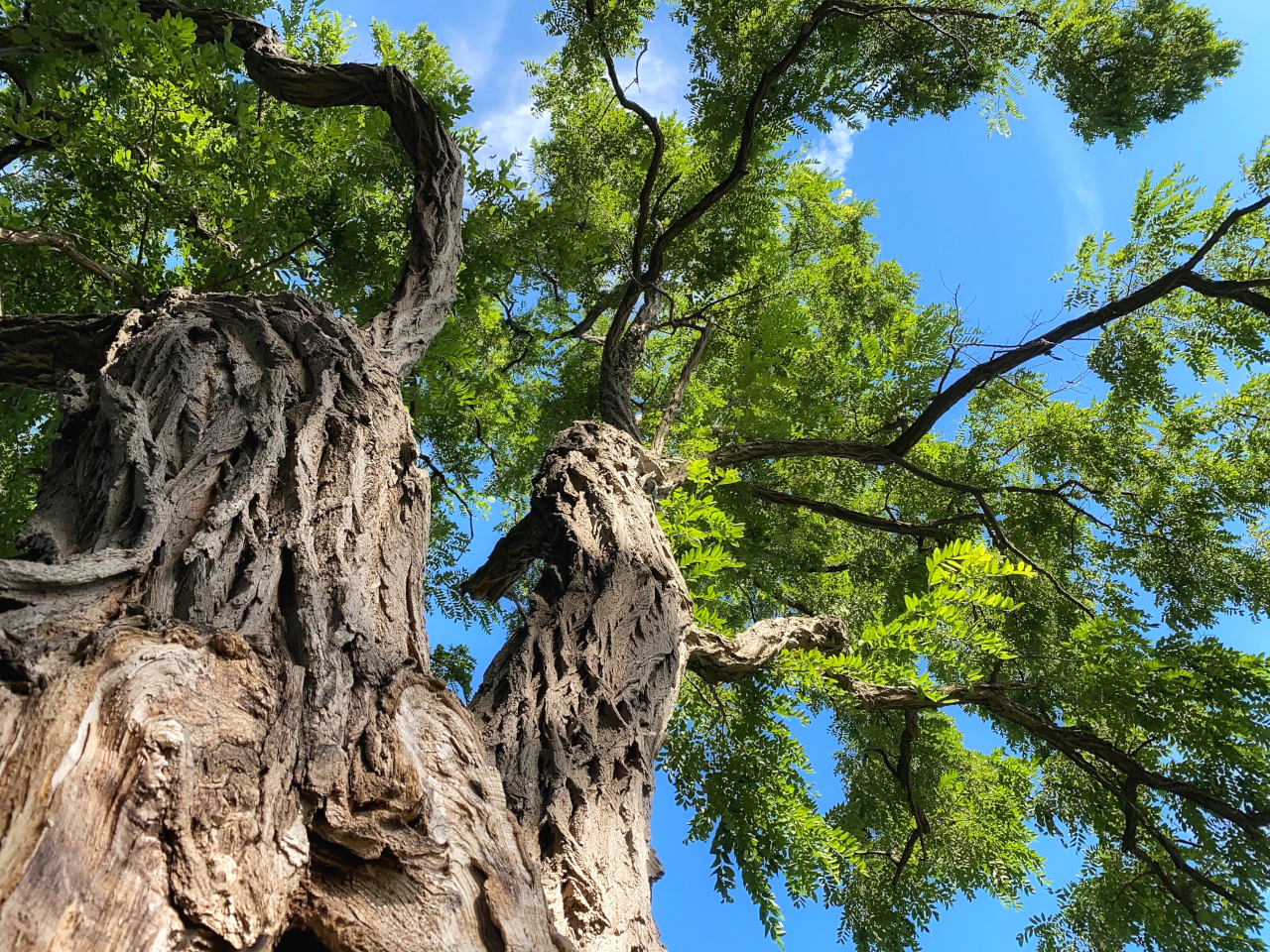 What is the ROBINIA project about?
DR. BERTHOLD: The project's overall goal is to find new ways to bind CO2 from the atmosphere in products for as long as possible, to economically reduce the CO2 content in the atmosphere, and to achieve our climate goals. The consortium of Fraunhofer WKI, Fraunhofer IWS, Lausitz Energie Bergbau AG (LEAG) and STRAB Ingenieurholzbau has set itself the goal of finding a sustainable use for robinia wood from the reforestation of open-cast mines as well as from forest areas in regions with low precipitation in the vegetation periods, which can no longer be managed with classic coniferous but also deciduous tree species due to the drought caused by climate change, which has become increasingly apparent especially since 2018. Robinia features a much higher natural durability compared to the in construction primarily used spruce and can be used without further chemical or constructive wood protection in outdoor areas without being threatened by the infestation of wood-destroying fungi or insects. Robinia is thus the only European wood species that is classified in durability class 1–2 (according to DIN EN 350-2) and, with regard to this property, can fully replace tropical woods for exterior use. Modern engineered timber construction relies on applying load-bearing timber bonding to form solid wood composites. These are currently almost exclusively softwood with limited durability and future availability. Our approach is therefore to qualify the wood raw material robinia for processing into weather-resistant glued laminated timber for applications in outdoor as well as damp areas with building approval. This facilitates a substitution of CO2-intensive materials such as concrete and steel in many areas of application. In addition, the increased use of robinia can reduce the use of tropical wood in Europe – key point: protection of the rainforest – and minimize the use of biocide products for wood preservation due to its natural resistance.

The consortium is interdisciplinary. Who takes on which task in the project?

DR. STANDFUSS: A total of four regional parties are working on the project. STRAB Ingenieurholzbau from Hermsdorf, for example, have so far built bridges from wood. They therefore have an intrinsic interest in using more robinia. They own the necessary equipment for an industrial girders production, as it is required for the approval procedure, and have also already promised further areas for the construction of a production line adapted to robinia. Fraunhofer WKI is taking care of the site analysis, the quality forecasts and the weathering and durability tests on the bonded woods. The scientists are experts in forestry science and wood research. LEAG is acting as the wood supplier in this project. The company already cultivates the former areas of open-cast lignite mines with robinia, which is currently used as an energy source in the form of wood pellets. However, LEAG wants to expand its value chain. We at Fraunhofer IWS take care of the wood layers joining as well as surface treatment and functionalization.

Which applications of use could the robinia tree enable and which advantages does the material wood offer in this respect?
DR. BERTHOLD: According to its properties, robinia offers great advantages, especially in outdoor applications. For example, I am thinking of the timber engineering of bridges or hall roofs that are exposed to moisture, such as indoor swimming pools. Also, we are keeping an eye on building tower structures for wind turbines from robinia. We want to work on this in a follow-up project. Wood is currently moving much closer into focus as a building material, because it offers a good opportunity to bind CO2 over the longer term. Compared to steel and concrete, wood has a negative CO2 balance, which makes it very interesting from an environmental point of view. In my opinion, timber construction will become even more important as a result. Lightweight construction in the building industry is also a good keyword in this respect. There are considerations to densify inner-city areas. For example, with lightweight constructions another floor could be added above a supermarket. The substructures of such buildings are not designed to withstand additional steel and concrete structures.


Concrete and steel, unlike wood, can be procured at relatively short notice. What time frames can we expect for robinia?
DR. BERTHOLD: Here again, the tree robinia offers an enormous advantage, as it grows very quickly compared to other woods. We are talking about 30 to 40 years until it has reached the required size for use as a building material. In the case of spruce, we are talking about almost twice that time, and in the case of other durable woods such as oak, the production period is between 140 and 180 years. In this context, it is important to note that, despite its rapid growth, robinia is not a softwood like birch, but a very hard wood. It has a higher density and thus often a higher strength than oak wood.


What sets the ROBINIA project apart from other CO2-saving projects? In which ways can the it support industry on the way to a circular economy?
DR. BERTHOLD: With the approach of using wood, we are moving from the ground up in a negative CO2 balance, since the material already absorbs and stores carbon dioxide during its "production" – in other words: during its growth. For example, one cubic meter of robinia wood stores just under 1,300 kilograms of CO2, whereas the production of one ton of steel in Germany releases around 1,500 kilograms of it at the current energy mix. Another example: For a bridge with a span of about 25 meters, about 14 tons of steel girders are needed for the supporting structure, which corresponds to a consumption of 21 tons of CO2. A comparable bridge with a load-bearing structure made of glulam would require about 10 tons of wood and bind 18 tons of carbon dioxide on the long run. We also use the positive effects of robinia wood on other levels. With this selected type of wood we do not require any biocide treatment, which means that we are ultimately using pure wood. We can also support climate-related forest restructuring and the recultivation of former open-cast lignite mines with the increased use of wood species such as robinia, because as a leguminous and drought-resistant species it also grows on sandy or nutrient-poor soils.
DR. STANDFUSS: The local utilization perspective also plays a major role in our project. Areas in Brandenburg and Lusatia are very well suited for robinia cultivation and can benefit in the course of recultivation carried out in this way. We also try to achieve a shortening of the transport routes of wood with our project, because the existing robinia stands mostly originate from Southern or Eastern Europe (Hungary). In the future, we do not want to produce the glued laminated timber by means of an adhesive, as has been the case up to now, but with recycled carbon fiber-reinforced plastics. We put the electrically conductive recyclate in the form of a film, place this between the parts to be joined instead of the adhesive, and melt the film by means of induction. This has the process engineering advantage that it solidifies relatively quickly and hardens as fast as possible, whereas an adhesive always requires a certain amount of time to do so. This method may also be suitable for joining woods together quickly and easily on construction sites. However, this melting can also serve to separate the parts and facilitate recycling.


What further steps are you planning?
DR. STANDFUSS: In the current challenge, the time available to us is exactly twelve months. We plan to put the beam structures into testing by the end of 2022. The results and approval cannot yet be reliably forecast. As far as the price component is concerned, our approach is to reduce costs primarily through very efficient manufacturing such as laser processing. In the middle of next year, we will conduct an economic feasibility analysis and reconcile all factors to be able to set a price.

What can Fraunhofer IWS and WKI take away from this project for the future?
DR. STANDFUSS: For our institutes with know-how in laser technologies and wood research, timber construction offers a new opportunity to establish ourselves even further in the market.
Fraunhofer WKI contributes its many years of expertise in the development of composite materials as well as process and quality control for wood-based materials. We at Fraunhofer IWS broadly position ourselves with flexible laser processes, especially in the automotive industry, aerospace or medical technology. Establishing ourselves with our technologies also in the wood processing and construction industry brings our research into a new business field. In this way, ROBINIA can open up new perspectives for us and expand our technology portfolio. In my opinion, this coupled with the aspect of sustainability is the right way full of opportunities for our two institutes to jointly make a difference in this area.
Infobox
SPRIN-D "Carbon-to-Value Challenge"
On behalf of the German Federal Ministry of Education and Research and the German Federal Ministry for Economic Affairs and Energy, the German Federal Agency for Leap Innovations (SPRIN-D) funds new ideas and technologies that are designed to make life noticeably better. In this context, SPRIN-D supports projects from research institutions, universities and industry with financial resources and know-how in order to successfully bring these inventions to the market. What is special about this type of funding is the unbureaucratic and rapid way in which the funding relationships come into effect.
At the beginning of 2022, the Federal Agency for Leap Innovations has called for the "Carbon-to-Value Challenge". This framework will fund projects that develop solutions to remove CO2 from the atmosphere on the long run. Funding for the projects will initially be provided for one year. The teams' work will be supported with up to 600 000 euros, which may increase as the collaboration progresses. The first stage of the Challenge ends with an intermediary evaluation. The finalists then demonstrate the breakthrough of their idea.

More about the SPRIN-D "Carbon-to-Value Challenge": Carbon-to-Value Challenge | SPRIND

Infobox
Background of the Fraunhofer WKI
Sustainability through the use of renewable raw materials has been the focus of Fraunhofer WKI for over 75 years. The institute, with locations in Braunschweig, Hanover and Wolfsburg, specializes in process engineering, natural fiber composites, binders and coatings, wood and emission protection, quality assurance of wood products, material and product testing, recycling processes, and the use of organic building materials and wood in construction. Almost all processes and materials resulting from the research activities are used industrially.
More about Fraunhofer WKI: English - Fraunhofer WKI