Fraunhofer IWS is researching functional structures as reliable and low-cost alternatives to manual cabling
Functional conductor paths from the 3D printer
Fuses, modules and interconnect cables are widely used in many different technical environments – applications range from inside conventional control cabinets to space. While the automation degree in fabricating various technical components is increasing, wiring remains a laborious and error-prone manual process. Researchers at Fraunhofer IWS, together with partners such as AIRBUS, are developing processes to manufacture conductive paths in a cost-efficient and safe manner.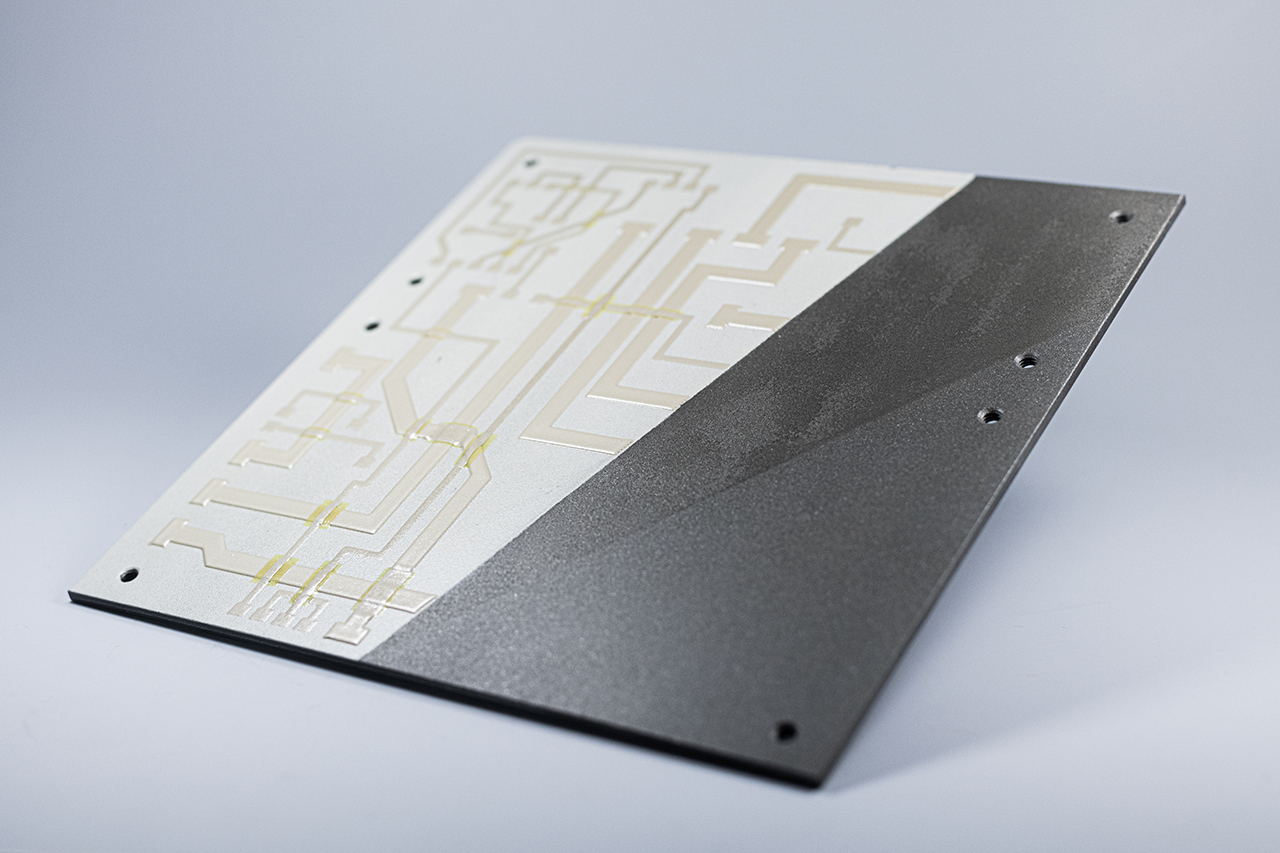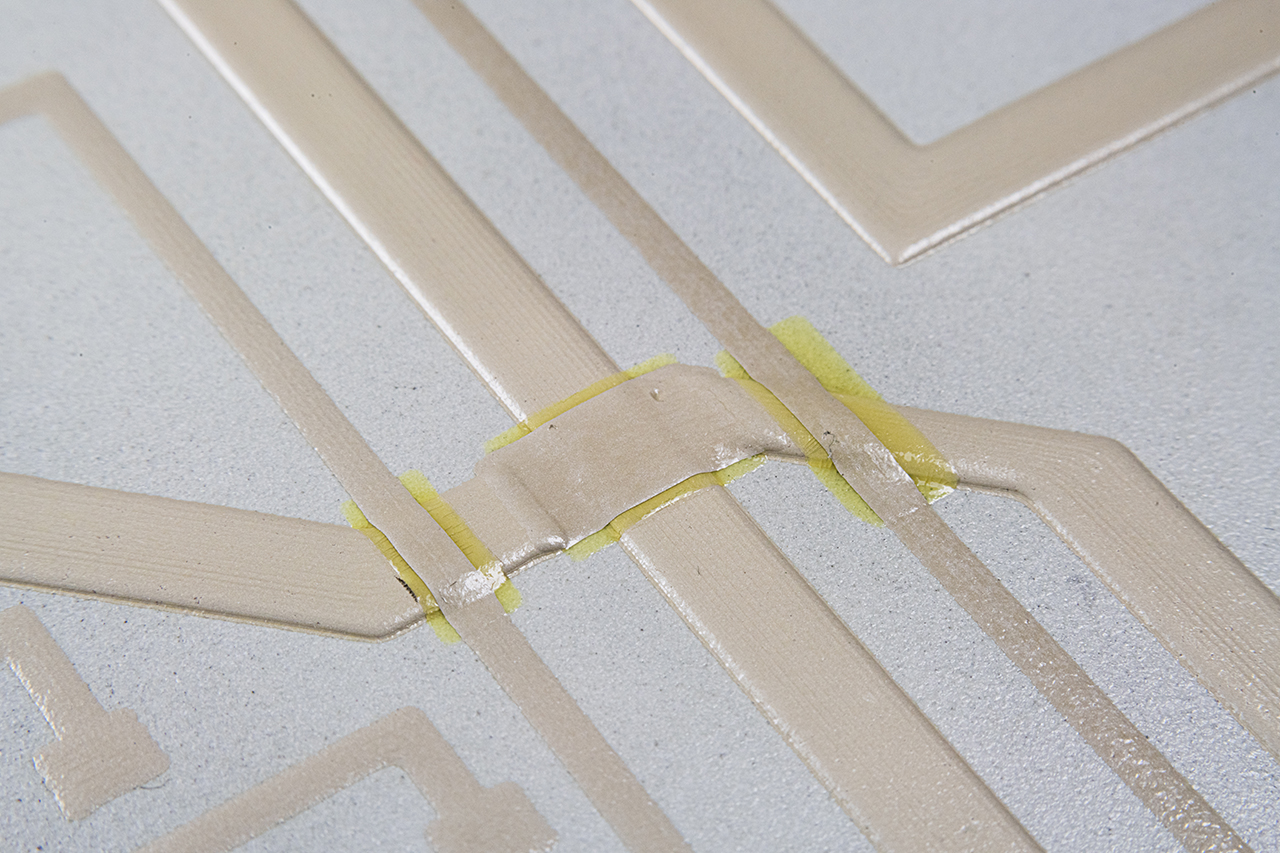 Fraunhofer IWS is researching functional structures as reliable and low-cost alternatives to manual cabling

Moritz Greifzu is member of the Powder Bed Processes and Printing group at Fraunhofer IWS. Together with his team he is working on several projects to develop functional structures using additive manufacturing technologies. He is currently developing a project involving the heating of materials in aerospace together with Airbus. The goal is to advance the field of thermal engineering in order to eliminate the susceptibility to errors in heating cables production. After all, spacecrafts sent into space allow nothing less than zero tolerance in terms of error susceptibility. The project partners recently launched the third stage: After the first project had tested if conductive materials can be printed on fuel lines and which heating performance can be expected, stage two included space-specific tests with various materials to explore how specific performance levels can be achieved electrically and thermally. In the current project, the scientists are investigating whether the processes used are suitable not only for defined reference applications, but also for more general use in thermal engineering. Thus, one question may be: How must a heating element be designed under different specific requirements?
Printing conductive paths faster, more economically and more easily
Simplifying the process of wiring components, shortening process times and saving material – these were the tasks the group addressed in cooperation with other Fraunhofer institutes and industrial partners in the AGENT-elF project. Specifically, they researched an additive manufacturing process for printing conductive paths for high-performance electronics onto a mounting plate. They aimed to print conductive tracks with a current-carrying capacity of six amperes.
What sounds so simple here, however, turns out to be far more difficult in practice.
The challenge was to ensure the interaction of all the materials used in the already established dispense process. To this end, the scientists applied a paste similar in consistency to toothpaste directly to the surface to be printed in thin strips. This paste contains metallic particles that produce good electrical conductivity in the printed web through a thermal post-treatment step". Our benschmarkbenchmark are conventional copper wires," explains engineer Greifzu. "We have to conduct the current reliably and provide good dissipation of the heat generated at such high currents. The cross-section of the printed conductors is somewhat larger than that of the comparable cable, but the direct contact with the control cabinet wall ensures better heat dissipation." A homogeneously mixed paste enables the components to be matched so precisely that the printing paste, ceramic coating and metallic carrier plate bond firmly after bakeout and the carrier plate does not warp under the high bakeout temperatures. The researchers also succeeded in printing conductive and non-conductive paths crosswise on top of each other. A demonstrator with a size of 300 by 300 millimeters, created during the project, proved that the project partners achieved their goals. The scientists want to expand its dimensions in the future so that they can address larger designs. Moritz Greifzu looks ahead: "We estimate high potential for printed conductors. For in addition to heating foils for aerospace and control cabinets , a large number of other application fields, such as automotive, require cabling that in future may be produced cost-effectively and reliably by 3D printing."