SNEAK PEEK: First insights in the not-yet-published Annual Report 2020/2021
Paper bonding with CO lasers
Fraunhofer IWS and Papiertechnische Stiftung PTS are jointly creating the basis for a binder-free paper joining process. They previously generated meltable reaction products by irradiating papers with a carbon monoxide laser (CO laser). The research team subsequently "bonded" two papers in a heat-sealing process.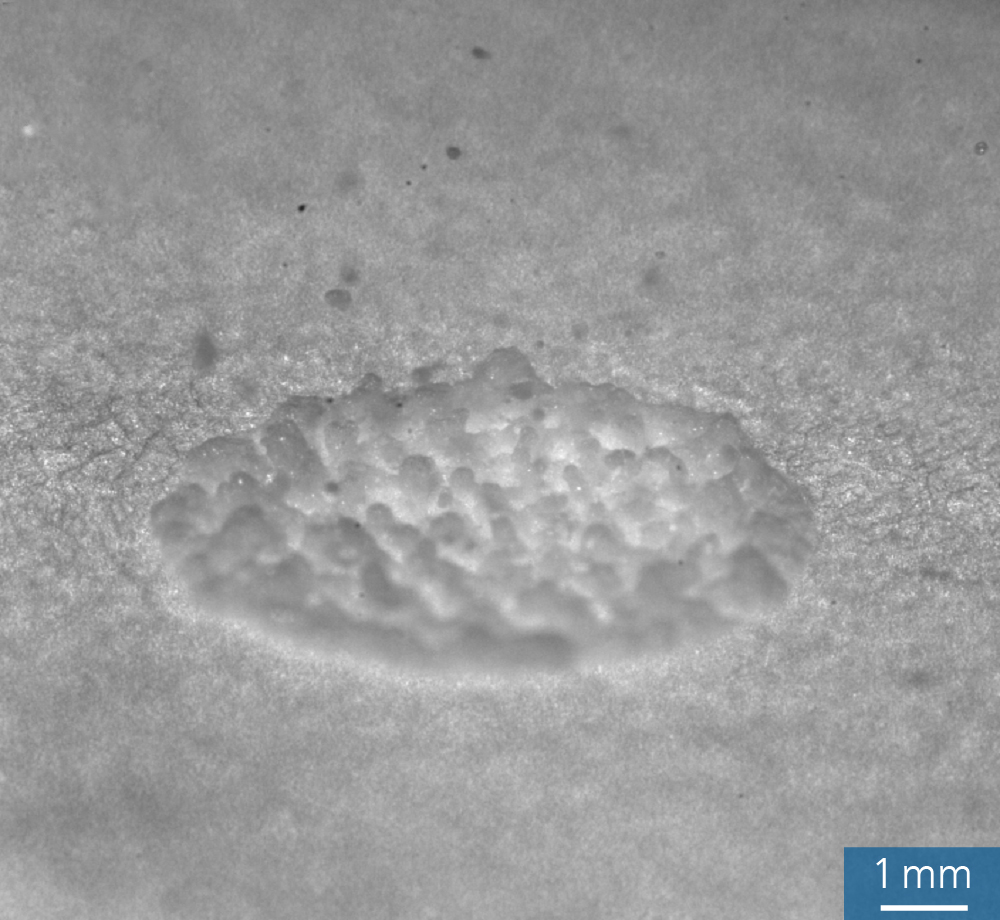 Paper and its products have already survived throughout the centuries. A variety of binders and bonding processes have been established to join paper products. "Adhesive bonding is the most common one, due to its low production costs and high bonding strengths. However, with respect to increasing environmental awareness, adhesives show considerable disadvantages for recycling ," explains Florian Lull. Residual substances, requiring the use of environmentally harmful additional chemicals, increasingly produce waste. Reducing additives throughout the entire value chain has become the key to success. A binder-free joining process based on melting can offer a solution. Lull reveals: "Until now, conventional thermal technologies failed to join paper due to the lack of a suitable temperature between melting and pyrolytic decomposition. The high-energy, short pulses of a CO laser provide a remedy." On the one hand, the very high heating rates cause the material to decompose abruptly. On the other hand, the cellulose molecular groups, being the main component of the pa­per, are selectively and very particularly excited by the laser wavelength of 5.6 micrometers. Using a high-speed camera, Fraunhofer IWS now visualized the highly dynamic boiling of a liquid intermediate state. The applied heat decom-poses this intermediate state to a large extent into gaseous substances. However, solidified reaction products also remain. The combination of time-resolved measurements and infrared spectroscopic analysis optimized their quantity.

Joining paper successfully by heat sealing
The project partners at PTS Heidenau succeeded in reliquefying the reaction products and joining two paper strips without artificial additives. "To this end, we used a heat-sealing pro­cess, in which a temperature of 200 °C was combined with a pressure of 36 bar," says Florian Lull. The joined samples were subjected to a T-peel tensile test and exhibited joining strengths of the order of a simple adhesive joint, for example for easy-opening packaging. In some cases, the joining partners were even separated adjacently to the joint, resulting in a connection with similar stability to the base material. To demonstrate the possibilities of the new technology, the project partners have already created near-industrial test specimens such as envelo­pes, cardboard boxes as well as corrugated board.