One Year Start-up: Focus on Fusion Bionic
Successful Change of Perspective
In 2021, scientists Dr. Tim Kunze, Dr. Sabri Alamri and Benjamin Krupop spun off from Fraunhofer IWS as "Fusion Bionic". Together with economist Laura Kunze the young start-up has mastered the first challenges and hurdles. In this interview, Dr. Tim Kunze, CEO of Fusion Bionic, as well as Prof. Christoph Leyens, Executive Director, and Dr. Christoph Zwahr, Group Leader at Fraunhofer IWS, look back on the early days and venture an outlook on the future cooperation.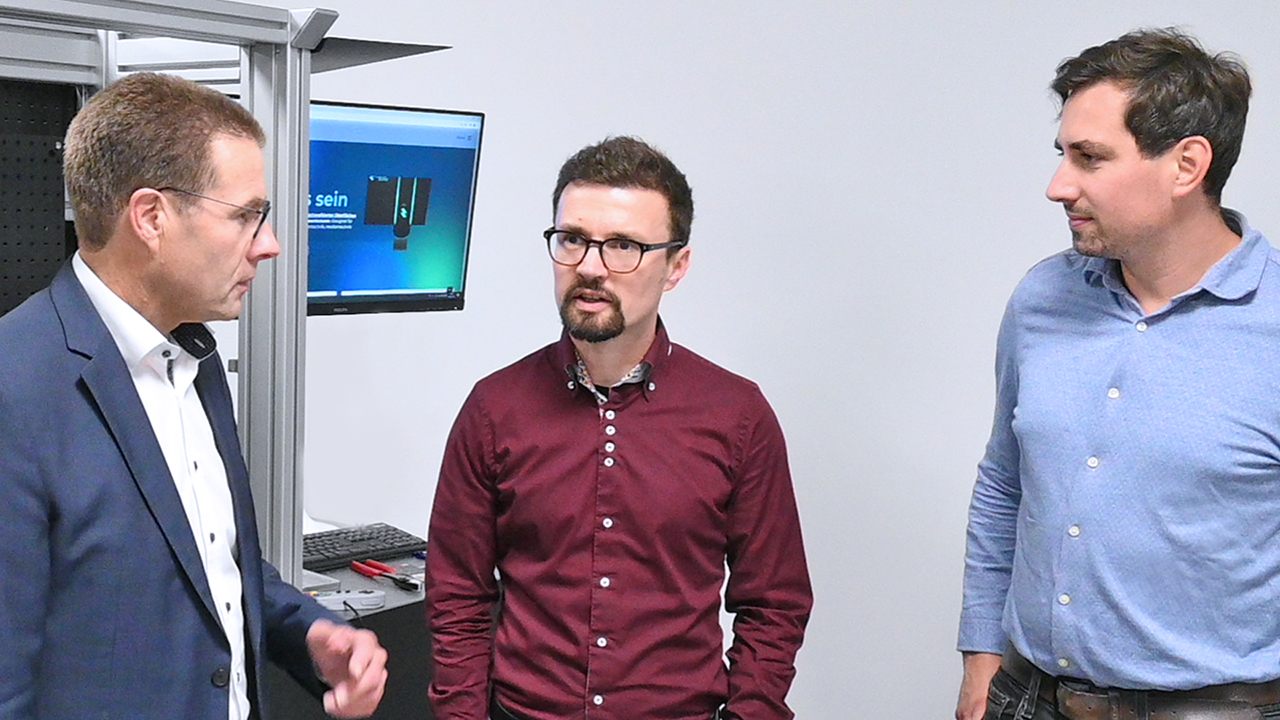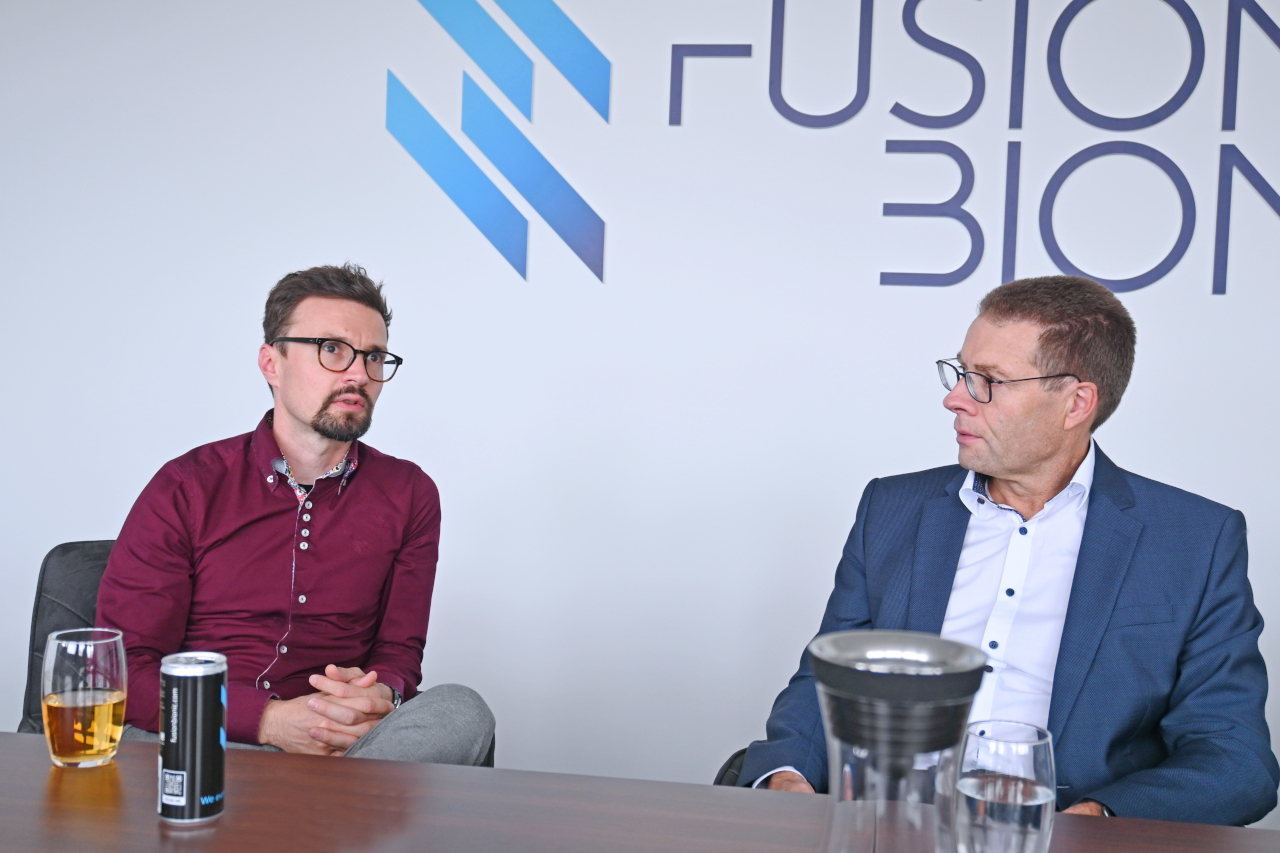 Dr. Kunze, how did you experience the first few months after the spin-off and what do you remember most about it?
DR. KUNZE: The biggest highlights of the first few months were definitely our participation and successful assertion in the "Heraeus-Accelerator-Programm". That took us completely by surprise, because as a start-up we had only existed for two months. This opportunity gave us a great uplift because it was our first major cooperation with a company, which meant that we not only gained experience but also references. As a young company, the basic difficulty is visibility in relevant markets. In this context, we had the great advantage of being able to build on our origins at Fraunhofer IWS. In particular, the Fraunhofer technology transfer platform "AHEAD" had played a central role in the spin-off process, as its support greatly accelerated it. We are proud of our roots at Fraunhofer IWS. Therefore, we know each other's strengths and can, for example, incorporate those into future collaborations. However, the separation process is extremely important in order to be successful in the market: We are Fusion Bionic and as a company we fulfill different requirements than a research institute. This change of perspective takes some effort, but constitutes a key step in the spin-off process.


Sticking with this cord-cutting process: How did the transition from scientist or researcher to CEO within the private sector work? What has been your biggest "learning" so far?
DR. KUNZE: Now my quick learning: You have to give up the great love for details in technology to some extent. My team at Fraunhofer IWS and I have often shown the technical potentials. In a research institute like this, it is about finding the limits of what is possible and trying to overcome them. As a company, however, we have to meet our customers on a completely different level. Very roughly speaking, they do not care about how we solve a problem; it is the end result that counts. I would say we have done quite well with this change in our point of view, but of course you always catch yourself not having quite shed your love affair with technology yet – something that works out well. It is a process of learning how the market works, and we're doing that steadily.


How does the cooperation with Fraunhofer IWS continue now?
PROF. LEYENS: Above all, I see the prospect of good cooperation! Certainly we have suffered a loss of competence in a certain way, but at the same time this provides us at Fraunhofer IWS with an incentive to create something new and to live up to our role as a pioneer in science.
DR. ZWAHR: Even in this new constellation, research remains successful as a joint effort.. In this context, I can say that within the last year, for example, we have jointly applied for two public tenders at the European level and have also been successful with one of these applications. This means that we are now working together as project partners for the first time. The aim of the EU project is to develop a laser head that enables a switch between interference and "normal" structuring in a five-axis process. In this way, we want to significantly increase the achievable structure spectrum. Completely different functionalities will be created on surfaces with a single laser head. We at Fraunhofer IWS assume the coordinator role and work on the process monitoring and regulation. In this context, we are investigating whether the laser heads produced by Fusion Bionic will be capable of delivering consistent quality even on highly complex surfaces. I am confident about the collaboration in the coming years. After all, we know each other very well and understand each other's areas of expertise.
DR. KUNZE: Apart from the EU projects, we also cooperate to the extent that we, as Fusion Bionic, commission services from Fraunhofer IWS ourselves – for various measurements such as the water contact angle, for example. Those are tasks we do not want to carry out ourselves. On the other hand, as an industrial partner we offer the attractive possibility of research transfer, especially when it comes to implementing our interference-based laser technology in production environments. This can succeed in transferring Fraunhofer IWS development projects to industry much faster. Overall, I see a lot of potential in continuing to work together.


Where do you want to go with Fusion Bionic?
DR. KUNZE: We started the spin-off with four people and have already recorded good growth to date. Currently, seven of us operate from our premises in the business incubator. In terms of content, our goal is to make the topic of functional laser processing even more visible and much broader. We already offer hardware solutions for surface finishing, but we also aim at offering functional surfaces as a product to a much greater extent. In doing so, we are also focusing more and more on the topic of sustainability. Above all, we would like to replace processes usually carried out only with harmful chemicals, such as chemical etching processes, for instance. "Anti-slip" or "anti-dirt" functions may be special buzzwords to ensure non-slip tile surfaces or enable self-cleaning PV modules. We would also like to take up the topic of "anti-icing" again, for which we carried out a project in aviation at the beginning of our spin-off. However, we had to postpone this for the time being due to the Corona pandemic.


Bottom line: How would you sum up the spin-off experience after one and a half years as a start-up?
DR. KUNZE: My conclusion is very positive and we would take this step again at any time. Before, during and after the founding there were hurdles that we had to overcome at every point. But that is exactly what one has to expect when building up a young company. Entrepreneurship is not free of risks, and that is what makes it so appealing to us as founders. I think it was very worthwhile and we chose exactly the right time to spin out.
PROF. LEYENS: The time for a spin-off was also right for Fraunhofer IWS. This kind of situation releases forces for us as well. It keeps us agile to a certain extent. In the end, our task is not to do what Fusion Bionic does – providing a market with system technology and modules – but to conduct preliminary research. Fusion Bionic starts at a commercialization point representing the state of the art achieved in research. This is no longer our very own role at Fraunhofer. Even if it was initially difficult for our institute's group, we now have the chance to think and create things in a new way. I believe this has been a great accomplishment and I look forward to many collaborative projects with Fusion Bionic where each of us will profitably apply our core competencies.