How novel development methods accelerate materials research of high-performance materials
New material designs in the blink of an eye
The new material class of high-entropy alloys (HEA) promises many innovations in aviation, turbine and tool construction as well as other industries. Testing the countless variations in the chemical composition of this material class would require research and development lasting thousands of years. Researchers at Fraunhofer IWS have further enhanced methods for material design that will enormously accelerate this work.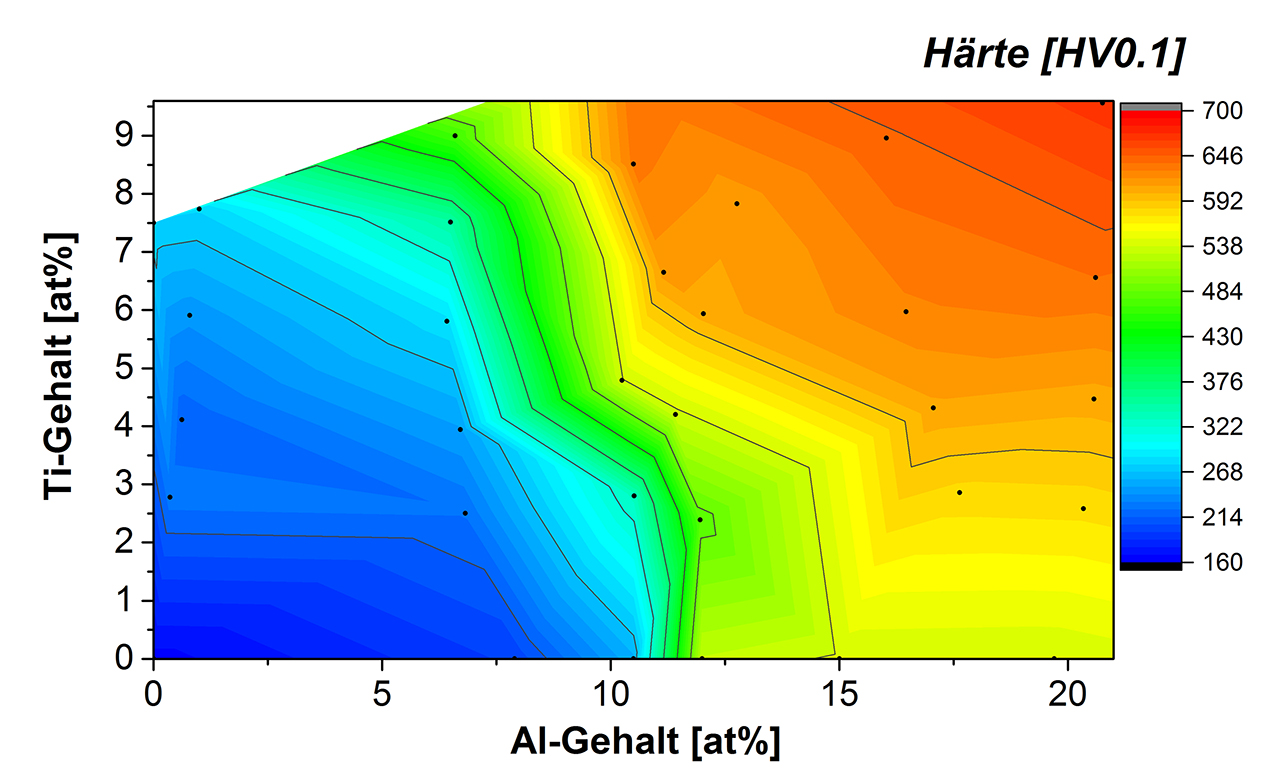 HEA are metals consisting of five or more elements in same or similar compositions. "Correctly designed, they are stronger, more heat- and wear-resistant than classical materials, such as steel or titanium, and nickel alloys", explains Group Manager for Materials and Failure Analysis Jörg Kaspar. "To identify new material systems with high application relevance, Fraunhofer IWS is developing high-throughput screening processes and methods for synthesis and characterization." Based on calculations of the phase stability of HEA material systems by means of the so called CALPHAD CALPHAD methods, the scientists experimentally validate materials that are considered suitable for specific applications. They modified existing laser powder cladding methods in such a way that samples can be directly fabricated from different HEA compositions. The ingredients are fed from several containers with iron, chromium, nickel and other elemental or pre-alloyed powders and mixed insituin situ. A laser melts this mixture and deposits it onto a sample plate. The system changes the composition gradually by varying the feed rate so that numerous alloy compositions are deposited on top of each other in a defined manner in just one sample. The resulting gradient structures can in turn be tested in a time-saving manner for composition and hardness using semi-automated analysis tools.

Design approach not only limited to HEL
Using this screening approach, Fraunhofer IWS effectively analyzes even very difficult-to-process and crack-sensitive materials and prepares them for future application scenarios. The applicability of the design approach is not limited to HEA alone, but will be extended to other high-performance materials. The research team expects that by means of additive manufacturing new high-performance materials such as HEA will rapidly find application in industry. In addition to high-throughput analysis, Fraunhofer IWS' fast-track testing strategies will also be applied in the future. Kaspar adds: "This will pave the way for more efficiently designed power plants and airplanes." HEA coatings will further improve the wear and heat resistance of forming tools in the automotive industry. The Dresden institute is therefore also pursuing new approaches for an innovative coating design based on HEA.