SNEAK PEEK: First insights in the not-yet-published Annual Report 2022/2023
New Storage Solutions for the Energy Transition
Germany has rediscovered the battery as a key technology – especially since realizing that many major German automotive manufacturers will take phase out internal combustion engines and focus to a large extent on battery-electric powered concepts. A race to catch up has been underway ever since in order to make up for the recently obvious capacity and technology lead of Asian and U.S. corporations.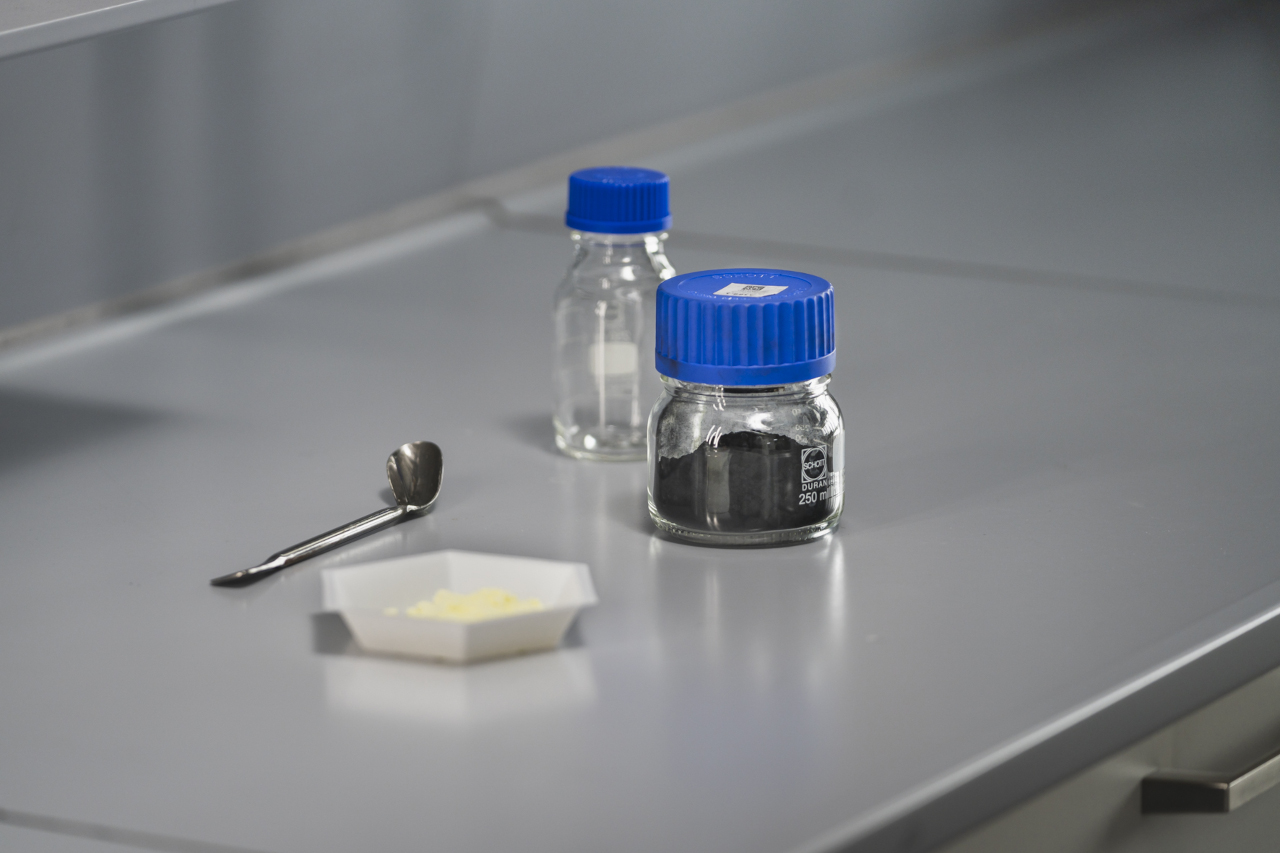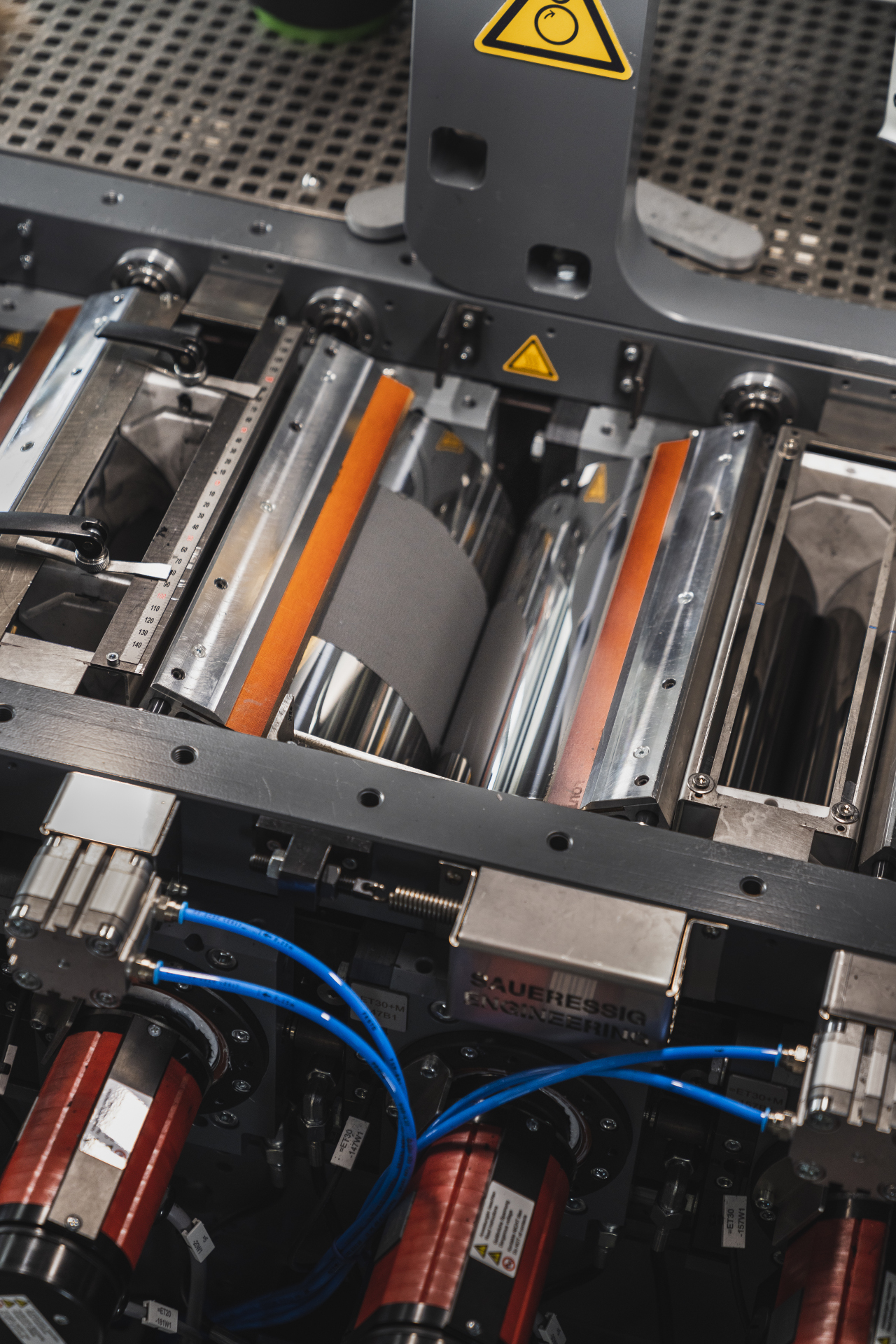 Electrode Production without Energy Wasters and Light Sulfur Batteries for Aviation
Fraunhofer Institutes play an important role in developing technology innovations as well as in training skilled staff, for example in the lead project "Fraunhofer Research Institution for Battery Cell Production FFB". Fraunhofer IWS has established years of expertise in this sector and concentrated it in the Advanced Battery Technology Center (ABTC).

DRYtraec®: Dry Production of Electrodes
A decisive shift in electrode production is close, one that could significantly reduce energy consumption in battery production. "This is a major lever in terms of costs and CO2 footprint," Dr. Holger Althues, head of ABTC, is convinced. Instead of applying the active materials wet-chemically and drying them again in large energy-intensive heating lines, DRYtraec® systems coat the metal foils in a dry rolling process. This enables more efficient production, lower investment and manufacturing costs, environmental protection by eliminating toxic chemicals, reduced space requirements in factories and significantly lower energy consumption. By now, the technology has been developed to an extent that facilitates practical tests close to industry. The battery industry in Europe, the United States and Asia is expressing strong interest in the technology. A new project under the title "DRYplatform" demonstrates this: In April 2022, the German Ministry of Education and Research (BMBF) approved 3.7 million Euro in funding that will allow Fraunhofer IWS to expand the DRYtraec® technology into a longer process chain. This includes, for example, upstream extruders to be able to produce the required powder mixture for the electrodes in a defined quality, downstream laser cutting as well as methods for process and quality control.

Sulfur for a Longer Range
The development of sulfur-based batteries has become even more relevant due to the resilience debates that have emerged in the wake of COVID. Lithium-sulfur batteries still need lithium, they do not require scarce raw materials sourced under controversial conditions, such as cobalt. In addition, they consist of particularly lightweight cells with high specific energy, which can be used in pseudo-satellites and electric airplanes, among other applications. Fraunhofer IWS also collaborates with start-ups in this field.

Solid-state Batteries for Even More Range – and Safety
In battery design, the automotive industry has long been waiting for an evolutionary leap: solid-state accumulators without liquid electrolytes promise a significant increase in energy density compared to today's lithium-ion batteries and thus more range for electric cars. Because of their low flammability, a plus in operational safety.
Fraunhofer IWS pursues two paths in this context: On the one hand, research teams are working on solid lithium-sulfur batteries as part of the "SoLiS" project, on the other hand on a solid-state variant of classic lithium-ion batteries. The latter approach is part of the nationwide "FESTBATT" project, to which the Dresden researchers contribute their DRYtraec® technology.

Taking Recycling into Consideration
Circular economy concepts have become a topic in German battery research. After all, the Federal Republic does not possess nearly enough natural resources to equip millions of electric cars "Made in Germany" with high-performance batteries. From an ecological point of view, recycling aspects should be considered at all times in battery and process design. Sulfur batteries that Fraunhofer IWS scientists work on, for example, may utilize sulfur waste generated world-wide as tailings from the petroleum industry and other industrial processes. The institute additionally works on new filtration processes for the recovery of electrolytes in battery recycling.