Kunststoff-Zentrum (SKZ) and Fraunhofer IWS develop flexible electrically conductive adhesives and potting compounds
Bonds against electrostatic discharges
In the "ESDBond" project, the Kunststoff-Zentrum (SKZ) and Fraunhofer IWS successfully modified flexible electrically conductive adhesives and potting compounds to dissipate electrostatic charges. In this process, they achieved significant reductions in electrical volume resistance by adding smallest amounts of carbon nanotubes (CNTs). Based on these results, the follow-up project "carBONDshield" is investigating possibilities for using such modified systems for electromagnetic shielding.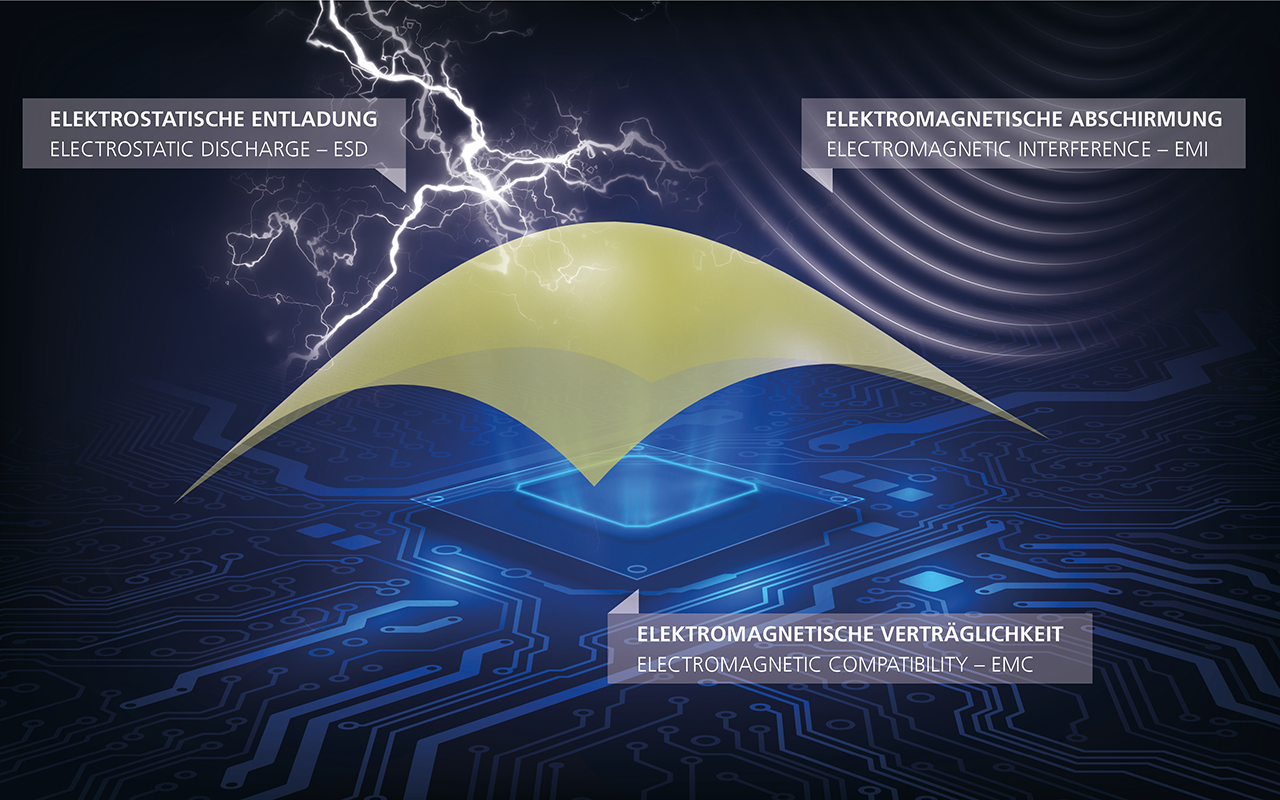 Electrostatic discharges (ESD) cause millions of euros in damage every year. The ability of adhesives to dissipate electrical charges is of significant importance, particularly in electronics. Due to the growing volume market of electronics and the increasing miniaturization of semiconductor components, the susceptibility to ESD of mobile devices, wearables, transport electronics and industrial control elements, for example, is constantly increasing.

Volume resistance reduced by twelve orders of magnitude
At the end of 2020, the SKZ Kunststoff-Zentrum Würzburg and Fraunhofer IWS, together with industrial partners, completed the ESDBond*1 research project. During the two-year project period, the scientists succeeded through the use of carbon nanotubes (CNTs) in modifying electrically conductive adhesives and potting compounds based on polyurethanes and silicones. What seems inconceivable with "classic" fillers such as silver particles becomes possible with the addition of CNTs with an average outer diameter of only about 1.6 nanometers. With a mass fraction of less than 0.5 percent and a homogeneous distribution of the CNT fillers in the silicone, the research team succeeded in reducing the electrical volume resistance by up to twelve orders of magnitude. Maurice Langer, project manager at Fraunhofer IWS, summarizes the advantages of the newly developed, conductive and elastic nanocomposites: "Carbon-based fillers like the CNTs investigated in the project contribute to significantly improving the electrical properties of the polymer composite – while saving costs and having only a minimal impact on the mechanical properties."
Adhesive and potting systems are also exposed to high temperature fluctuations and strong vibrations in practical applications. Due to their chemical structure and the high levels of metallic fillers, these systems are usually stiff and brittle. "Our studies demonstrate that the high elasticity of the modified silicones and polyurethanes is preserved by integrating the CNTs into the polymer matrix. In this way, for example, flexible antistatic sealings can be realized to compensate for the sometimes considerable differences in thermal expansion between the joining partners - such as the electronic components on a circuit board," says Langer. Other possible applications include conformable electronics and sensors and actuators.

carBONDshield – innovative materials protect against electromagnetic interference fields
Advancing digitalization and new radio standards such as 5G mobile communications mean that electrical systems and devices are increasingly emitting electromagnetic waves up into the double-digit gigahertz spectrum (Industry 4.0). The follow-up project carBONDshield*2 aims to protect sophisticated electronics applications from such electromagnetic interference.
Based on the knowledge gained from the ESDBond project, the project partners want to evaluate and optimize innovative polyurethane- and silicone-based shielding applications to improve electromagnetic compatibility (EMC). Adhesive systems for bonding and sealing as well as potting and coating systems for encapsulating electronic components are being studied. They are intended to replace classic methods such as encapsulation with metallic PVD coatings or by shielding sheets, which are increasingly reaching their limits due to restricted space, insufficient shielding attenuation or lack of flexibility and cost efficiency.
SKZ and Fraunhofer IWS invite interested project partners for the follow-up project. The start of the successor project carBONDshield focusing on the development of electromagnetic shielding solutions is planned for June 1, 2021.

*1 "Development of carbon nanotube-modified polyurethane- and silicone-based adhesives for bonding and potting ESD- and EMC-sensitive components", in short: ESDBond.
*2 "Research on the shielding behavior of carbon nanotube-modified flexible sealing adhesives as well as potting and coating solutions for electromagnetic interference in the spectrum from 104 Hz to 109 Hz", in short: carBONDshield.
Federal government fund the project
The IGF project 20459 BG is funded by the German Federal Ministry for Economic Affairs and Energy (BMWi) through the German Federation of Industrial Research Associations (AiF) as part of the program for the promotion of joint industrial research (IGF).