New cold wall furnace at Fraunhofer IWS offers a clean process and a wider variety of materials
Sintering and debinding in one plant
The Fraunhofer Institute for Material and Beam Technology IWS expands its equipment portfolio to advance its competencies in the research field of additive manufacturing. In addition to a binder jetter, a new cold-wall furnace has been added, allowing the two post-processing steps debinding and sintering to be carried out in one system. Along with the binder jetter, the Dresden institute now maps the complete manufacturing and machining process of components and makes it available to interested users as well as researchers who are involved in this additive manufacturing process.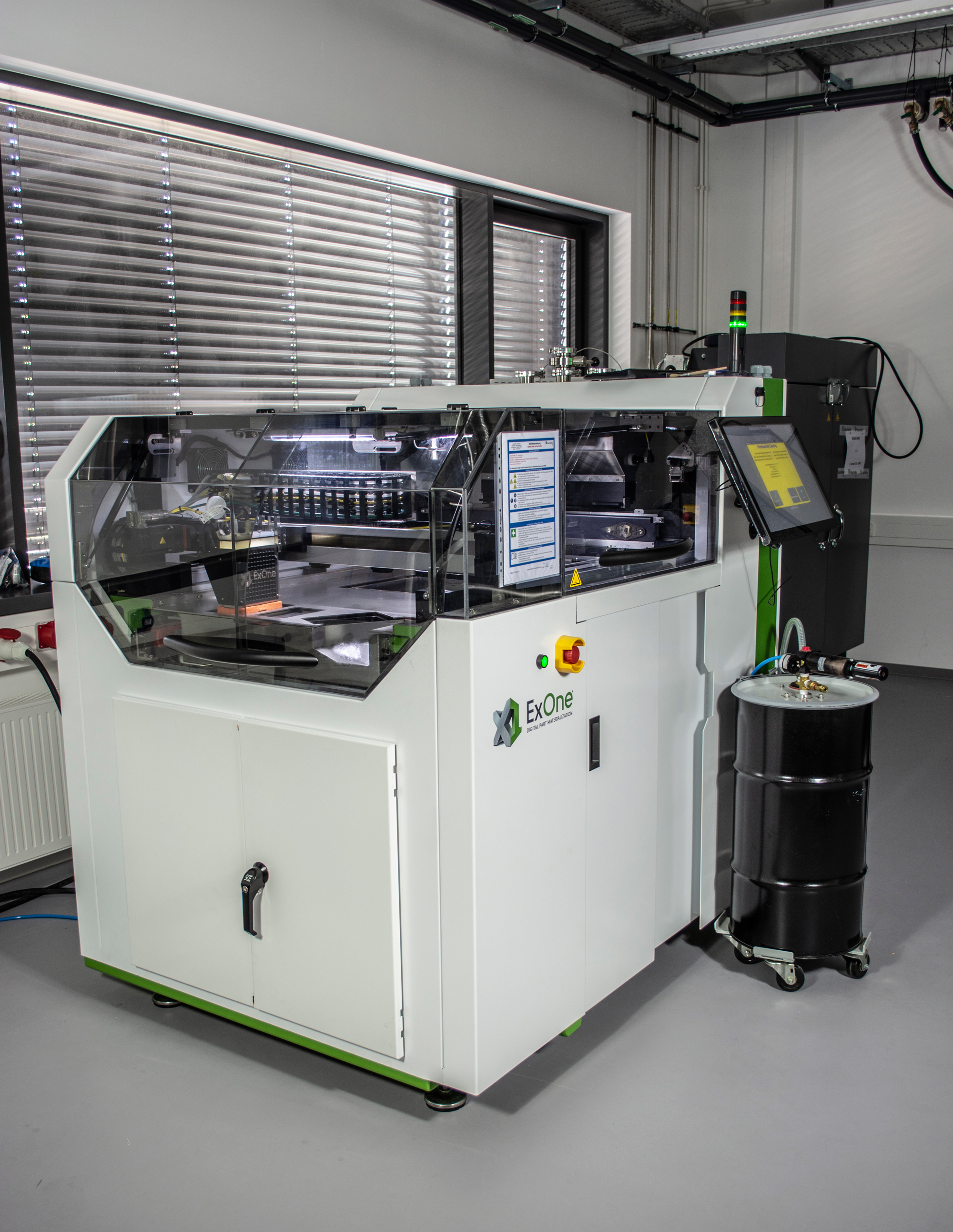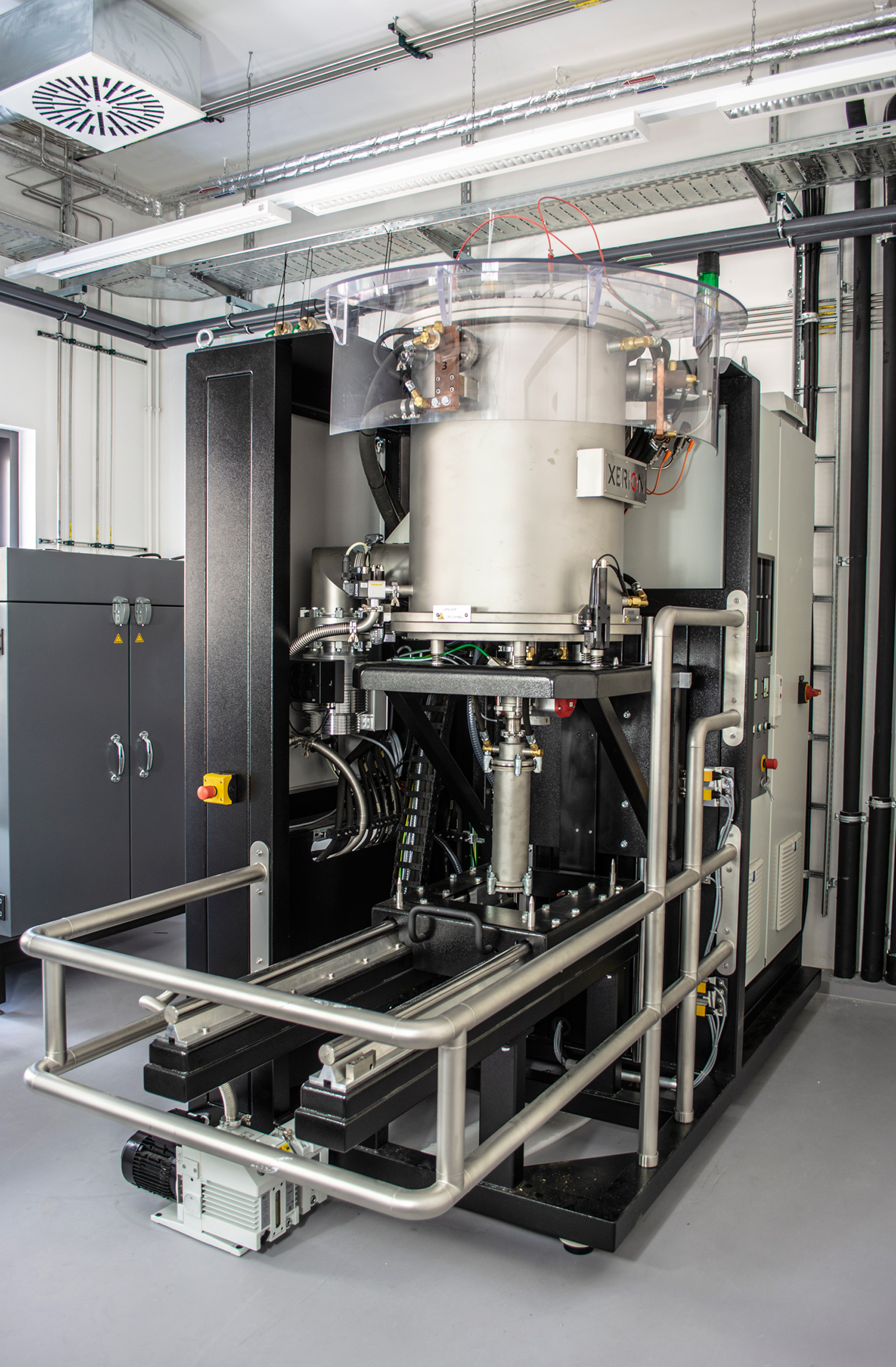 Fraunhofer IWS extends its annex building, which also houses the Additive Manufacturing Center Dresden (AMCD). Additionally, the institute is upgrading its technical equipment: Two additional stages now offer space not only for a green laser equipped production line and a binder jetter but also for a new cold wall furnace.
With a chamber volume of about 21 liters (on average 300 by 300 millimeters), this extends the existing plant portfolio for the processing of binder jet components. "The binding agent introduced in the binder jetter has to be removed for further processing and the component has to be sintered afterwards to obtain the desired material characteristics", explains Moritz Greifzu, member of the group "Printing" at Fraunhofer IWS. "The new cold wall furnace now enables us to perform both steps in one plant. This saves time and makes us more variable in the processing of 3D components."

Heat and vacuum possible at the same time
The special feature of the system is that due to a built-in cold trap and a special gas duct, the debinding gas does not settle on the furnace wall or contaminate the component. This "clean" debinding process makes subsequent chamber cleaning obsolete. "The process parameters also provide information about the pressure under which the binder escapes – an interesting aspect for us researchers," adds Greifzu.
A second major advantage – besides the cold trap – is the cold wall design with its various operating modes:
Sintering with gases (argon, nitrogen)

Sintering with hydrogen
Oxidation of the sintered material is prevented
Maximum temperature of up to 1850 degrees Celsius

Broad portfolio of sintered materials, from copper and steels to nickel-based alloys and titanium
Sintering in high vacuum (10-4 millibar)
The new cold-wall furnace is therefore a versatile system that complements the machine portfolio for the Additive Manufacturing Center Dresden (AMCD) with the production and processing of binder jetter components. In addition to in-house research activities on these plants, the cold wall furnace is available to interested material manufacturers or users for application and testing purposes in the additives production. The experts of Fraunhofer IWS support them with their experience as well as their expertise and advise and accompany them in order to find practical and industry-oriented solutions to material-, process-relevant and technical questions.
Info box: Binder jetting
Binder jetting, a so-called powder bed process, produces components powder layer by powder layer using the local imprinting of a binder. This 3D printing process can create complex structures such as heat exchangers, coil systems or internal geometries from plastics, metals or ceramics. The binder consists of polymers and acts like an adhesive. Using a nozzle, it is applied only selectively to the powder areas where the workpiece is intended to "grow". Subsequently, new powder is incorporated into the process and again only applied to the necessary areas of the binder. In this way, a component that does not require any supporting structures grows bit by bit. Reworking, such as removing the support geometry, is no longer necessary.