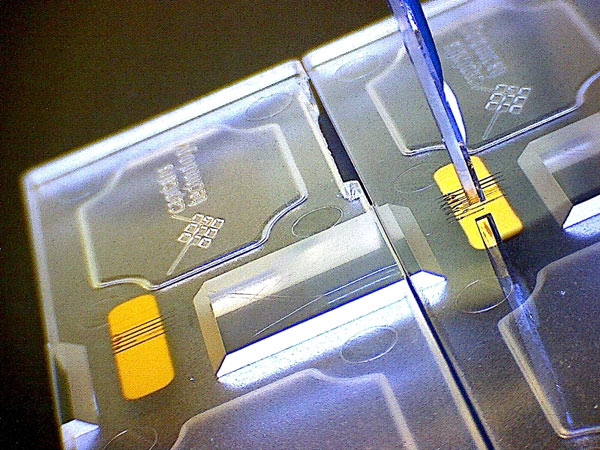 The development of micro-array technology in combination with biosensors based on surface plasmon resonance (SPR) represents a valuable research tool for real-time detection of molecular interactions.
Micro-array technology facilitates analysis of multiple parameters simultaneously in one experiment.
The manufacture of protein and oligonucleotide micro-arrays at Fraunhofer IWS takes place by means of nanospotting to avoid direct contact. In this technique, extremely tiny droplets (35 nL) are applied to the gold surface of an SPR chip. The chip can be immobilized with many different ligands this way.
Analysis of substances is accomplished with the help of the Fraunhofer SPR Measurement System. In this system, the co-reactant to be detected is introduced and the interactions or bonds can be detected through the rise in the SPR signal in real time. Up to 180 spots can be immobilized automatically by means of nanospotting on a chip with a 12 x 3 mm² gold surface.
Sample quantities can be greatly reduced compared to conventional methods of functionalizing chips using 17-branch flow cells. Several chips can be functionalized in parallel using the new technology. In addition, you obtain more reproducible results in comparison to manual methods. The shelf life, cleaning as well as labeling of ready-to-use SPR chips will be investigated in future projects.