Scientist from the Fraunhofer IWS Dresden is "German High Tech Champion (GHTC®)"
Annett Klotzbach and her team are to be awarded with the German High Tech Champion prize in "Lightweight Design" for their research in the field of Remote laser cutting of fiber composite materials. The GHTC® Award will go to six outstanding German technology developers from German universities and research institutions. The Fraunhofer IWS is being honored with this prize for the second time. The GHTC® includes an award of 10,000 euros and will be presented at the 2nd Fraunhofer Symposium "Green Technology made in Germany - Lightweight Design" in Tokyo on November 18, 2013.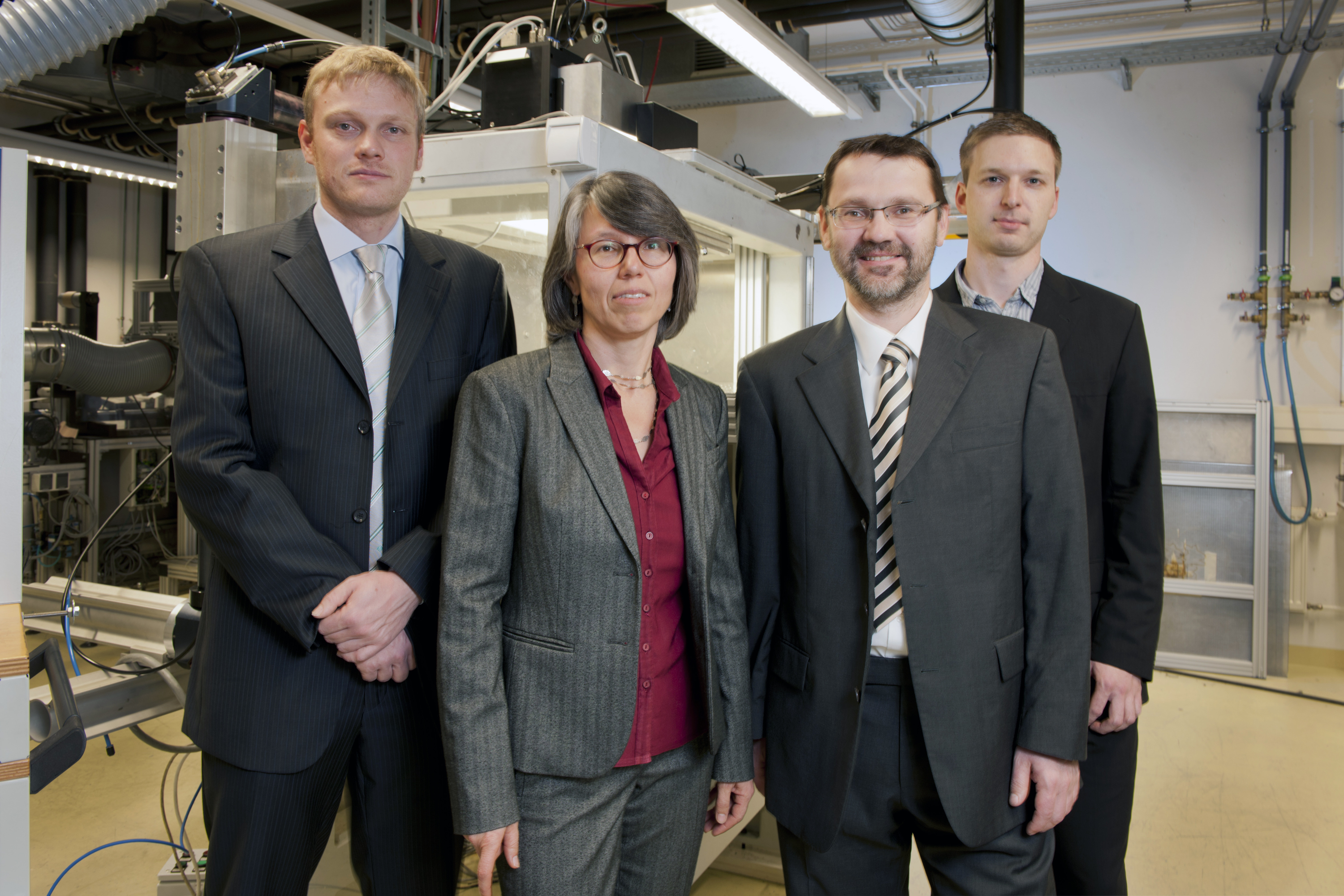 Business Case
The constantly growing market for lightweight semi-finished products and structures based on fiber composite materials requires innovative production technologies, high utilization degrees and automated process chains. The laser is a precise wear-free tool; which is easily automated and has fully established itself in the market of cutting and processing of metal materials. Using the laser tool in the field of fiber composite material processing will open up completely new applications.
The remocut® FRP (Fiber Reinforced Polymer), developed by A. Klotzbach and her team, applies laser treatment processes to tailored fiber reinforced structures. This technology is a decisive step on the way to efficient weight reductions in automobiles and products, applying fiber composite materials in the field of lightweight construction. Thanks to high brightness laser sources, novel software modules and modern image processing systems, various textiles and composite compounds can be structured, cut, activated or repaired.
The essential advantage of the remocut® FRP-technology is its flexibility and efficiency, since it can be applied to 2D- as well as 3D trimming processes. Single unit production as well as mass production in roll-to-roll procedures are highly efficient. Furthermore this technology enables the integration of new functions into parts, e.g. hinges or perforated openings. Thanks to the exceptional efficiency of remocut® FRP, part production costs can be drastically reduced.
The Campaign
The GHTC® Award is a constituent part of the collaborative project "International Research Marketing", which is a joint initiative by the Alexander von Humboldt Foundation, the German Academic Exchange Service, the Deutsche Forschungsgemeinschaft and the Fraunhofer-Gesellschaft. The objective of the project is to advance Germany's reputation as an international center of research and to enhance its profile in the global science market.
All the activities within the project are part of the "Promote Innovation and Research in Germany" initiative under the brand "Research in Germany".