Prof. Dr. A. Lasagni is awarded the Masing Memorial Prize of the DGM (German Association of Materials Science)
Prof. Lasagni is honored with the Masing Memorial Prize for his successful research into the industrial applications of laser technology. He is a professor in the field of industrial engineering at the Technische Universität Dresden and heads the research group "Surface Functionalization" at the Fraunhofer-Institut für Werkstoff- und Strahltechnik IWS Dresden. The prize was presented in Bochum at the DGM-general meeting on May 23, 2013.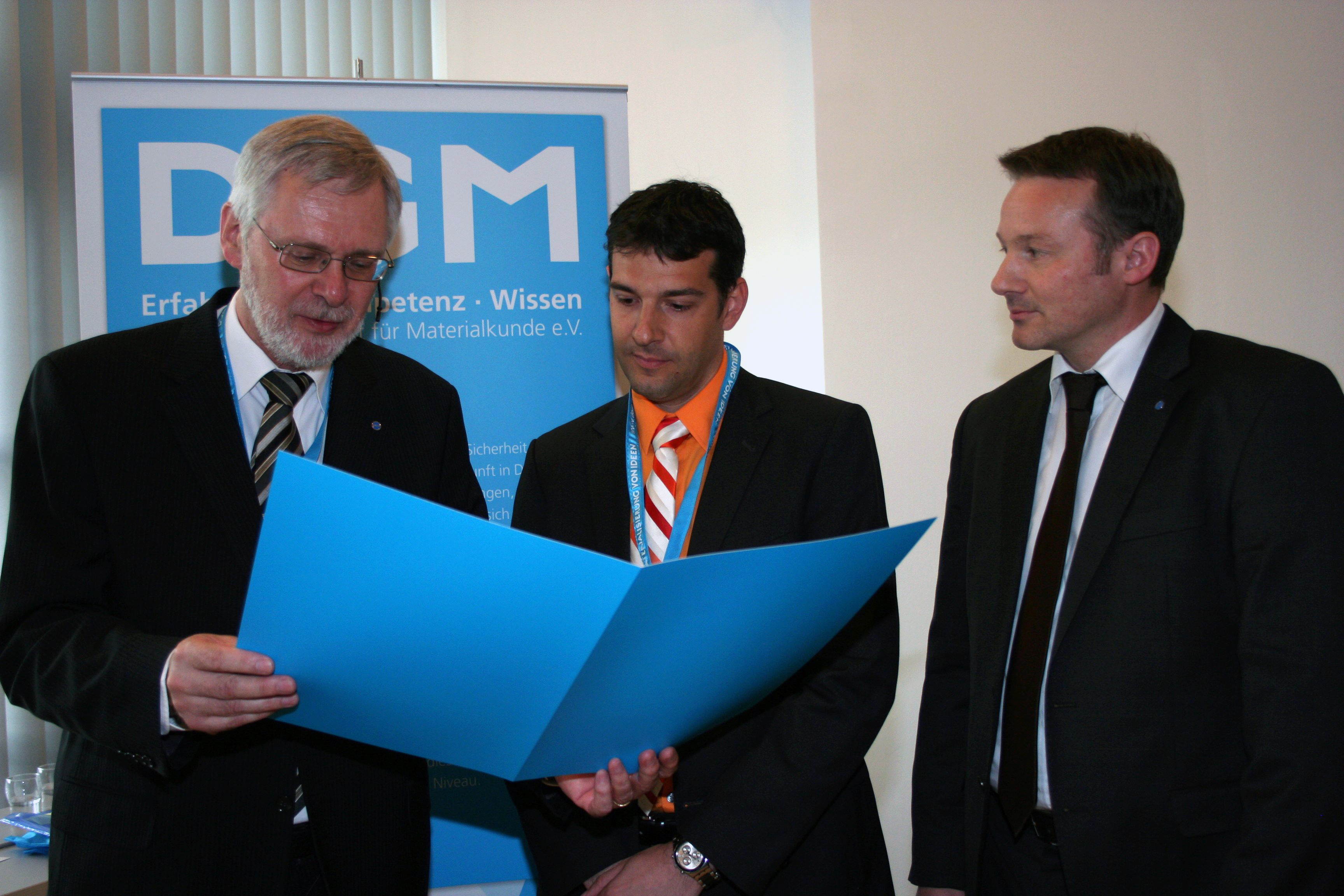 Prof. Lasagni has great expertise in laser materials processing within the field of industrial engineering. His research focuses on the advancement of laser structuring technologies, which facilitate the fabrication of complex micro and nano structures on large surfaces.
"Nature provides a huge variety of solutions through the application of structured surfaces. We can use these as a source of inspiration to introduce novel characteristics into technological surfaces" Prof. Lasagni stated. "Besides the need for fundamental insight into the scientific understanding of surface characteristics, it is also of utmost importance to develop laser-based procedures and tools, which enable a precise, reproducible and homogeneous surface fabrication".
Born and raised in Argentina, the 35-year-old scientist achieved his first insight into the field of laser technology at the Universität des Saarlandes, Saarbrücken in 2002. In 2007, one year after his doctorate at the Chair of Functional Materials, headed by Prof. Dr. Frank Mücklich, Prof. Lasagni researched at the University of Michigan and at the Georgia Institute of Technology in the USA as a Humboldt Foundation Scholar. Since September 2008, he has headed the research group "Surface Functionalization" at the Fraunhofer IWS Dresden. In July 2012 he was appointed as a Professor at the Technische Universität Dresden. Prof. Lasagni has published more than 100 publications as author and co-author. He was honored as German High Tech Champion for photovoltacis in 2011. Furthermore he was awarded the Fritz-Grasenick-Preis and the Werner-Köster-Preis.
The DGM has been awarding the annual Masing Memorial Prize to young, graduated scientists since 1957. The DGM is a forum for all scientists, who are occupied with the research, development, fabrication, processing and application of materials. The association comprises 2300 members, coming from research organizations as well as from industrial enterprises.