Workshop "Ultra-Barrier Manufacturing and Testing"
November 27, 2014, Fraunhofer IWS Dresden jointly organized on Fraunhofer FEP Dresden and Organic Electronics Saxony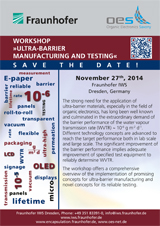 The strong need for the application of ultra-barrier materials, especially in the field of organic electronics, has long been well known and culminated in the extraordinary demand of the barrier performance of the water vapour transmission rate (WVTR) ~ 10-6 g m-2 d-1. Different technology concepts are advanced to reach the target performance both in lab scale and large scale. The significant improvement of the barrier performance implies adequate improvement of specified test equipment to reliably determine WVTR.
The workshop offers a comprehensive overview of the implementation of promising concepts for ultra-barrier manufacturing and novel concepts for its reliable testing.
Conference language: English
Conference location: Fraunhofer IWS, Winterbergstraße 28, 01277 Dresden, Germany