How quickly does a component fatigue?
There might be two reasons for a failure of a component: firstly, a failure (so-called breakage) will occur, if a component is definitely overloaded, comparable to a bone fracture after a fall. Secondly, if a component is repeatedly deformed over a long period of time, the damage will slowly progress, even at low loads; this is the case of material fatigue. The causes are as variable as the materials fabrication and operation are. The challenge, however, is to precisely predict how long a component or a bone will hold up.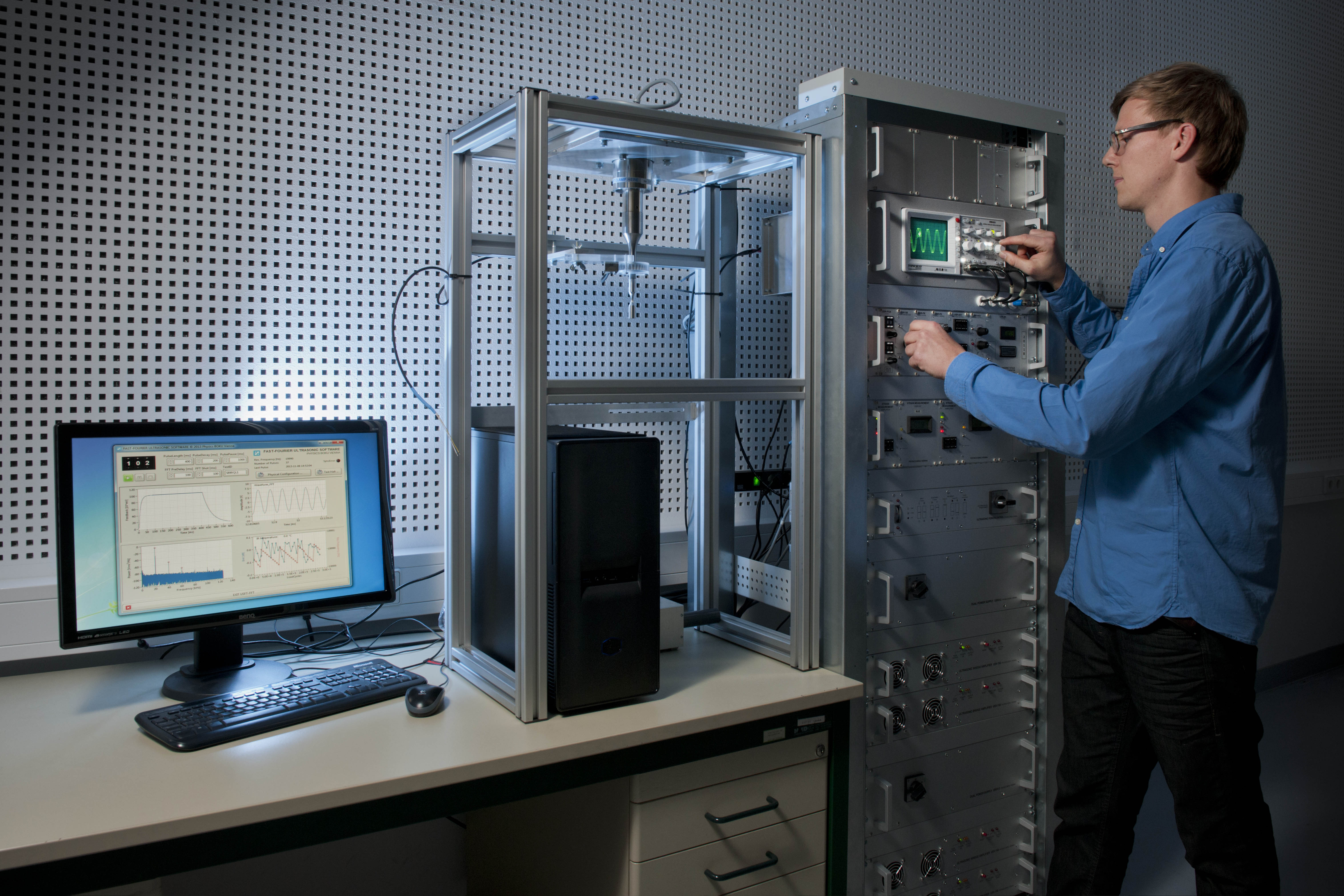 In order to meet this challenge the Fraunhofer IWS Dresden is expanding its research activities in the fields of materials characterization and mechanical testing. Thanks to our newly-established high frequency fatigue testing laboratory, the component's fatigue strength can be tested beyond the classical endurance limit. Thus, the IWS can meet the increasing requirements in these topical fields.
"The rising industrial demands, with respect to a more efficient utilization of the material's strength at simultaneously extended fatigue life, result in loading cycles beyond the classical endurance limit", emphasized Prof. Dr. Martina Zimmermann. M. Zimmerman is an internationally highly recognized expert in the field of high frequency fatigue testing technology and she initiated the new laboratory at the IWS. "Even slightest modifications of material compositions or production sequences have an immense influence on the fatigue strength of a safety-relevant component. These influences are to be identified as early as possible in the course of the product development. In close cooperation with our industrial partners we are now able to face this challenge even more intensely."
Component failures in cars, equipment or system units are often caused by failure fatigue due to changing mechanical loads. In order to determine the fatigue strength, a component is usually exposed to alternating mechanical loads and strains. In the past, only specimens which are able to endure 107 cycles without failure or crack initiation were considered to be failsafe. 10 to 50 specimens must be tested to reliably predict the fatigue strength of a real component. Thus, statistically verified material properties can only be achieved by cost and time consuming test procedures.
The installation of the new IWS laboratory with most up-to-date high frequency fatigue strength testing equipment offers completely new prospects. The new testing stand enables test frequencies of approximately 20.000 Hz and gives scientists a tool to experimentally analyze the influence of fatigue strength in a quicker and more efficient manner. This applies both to the classical fatigue strength range and, beyond that, to the so-called Very High Cycle Fatigue (VHCF) range. The demands comprise a comprehensive analysis of the damage behavior, which is considered an indispensable unity of material, production and construction. Mechanical testing, direct and indirect in-situ damage detection, and highly-resolved material analysis are essential elements of the scientific activities in the field of material fatigue research at the Fraunhofer IWS Dresden.
The ultrasonic fatigue test stand enables tests at most different load ratios for a broad spectrum of material classes. Even load bloc tests simulating real load scenarios are possible. In order to avoid undesirable heating at high frequencies, samples are actively cooled by means of compressed air during testing. Moreover, the test regimes are also adjustable in terms of pulse-pause sequences based on the material-specific damping properties.
A well-equipped resonance pulsation test stand complements our comprehensive testing offer. The test system allows frequences of 100-150 Hz at maximum forces of ± 50 kN. The cyclic tension-compression tests with and without superimposed mean loads, 3- and 4 point bending tests as well as fatigue crack propagation studies and isothermal experiments up to 900°, can be performed at our novel high frequency laboratory.
On February 26, 2014 the Fraunhofer IWS opened its doors for an Open House invitation and presented numerous innovative research applications. Among these our new laboratory created vivid interest and our guests were invited to visit the new laboratory.